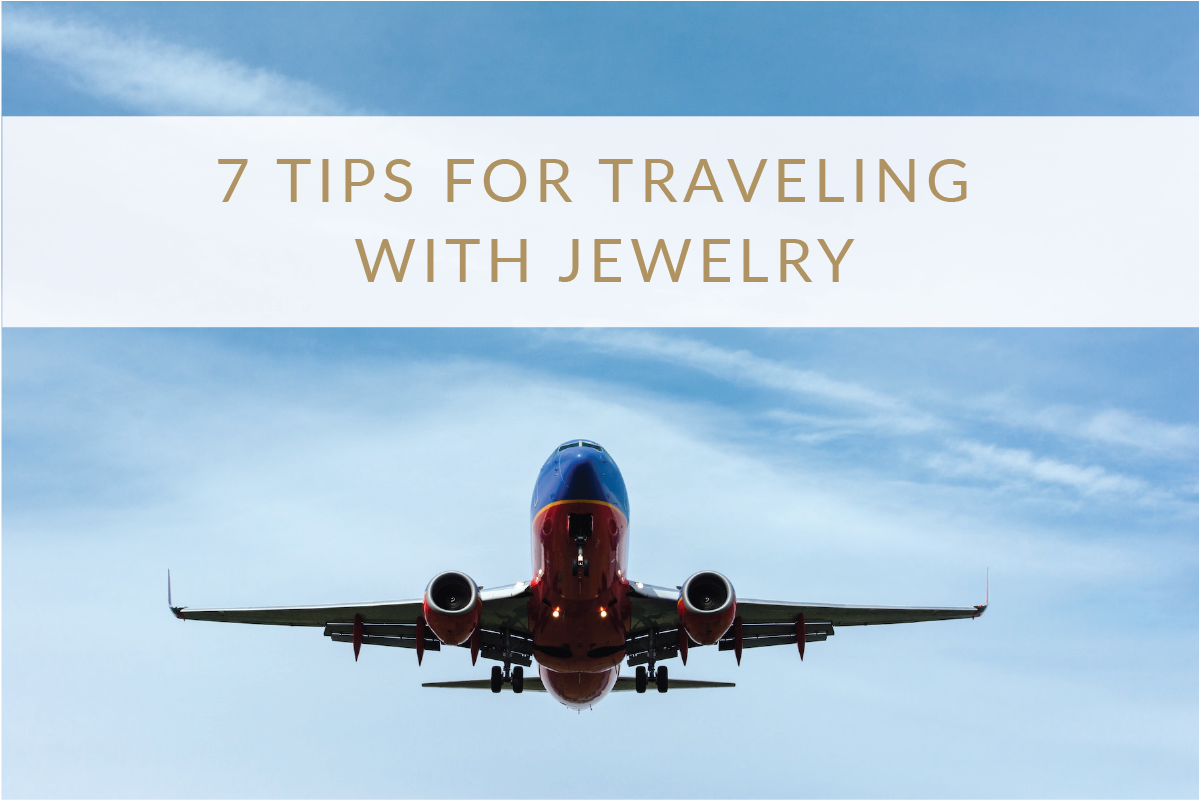 7 Wise Tips for Traveling With Your Jewelry
Traveling can be an exciting and much-needed experience anyone can have. It is one of my most favorite things to do especially during a much-needed break or a yearning for different scenery and fresh inspiration. If you are like me, at one point or the other, safely packing up your jewelry for travel hasn't been the easiest thing to do. Unlike clothes you could fold up and toss into your suitcase or books you could squeeze into a tight spot, jewelry needs a little bit more care and attention when packed.
So how do you have a hassle-free travel experience with your jewelry and also ensure they arrive safely at your final destination? Here are 7 easy and wise tips for traveling with your jewelry
1] CARRY IT ALL ON
This is the most important tip on this list. Never ever travel with your jewelry in your checked luggage. Whenever you travel, always have your jewelry in your carry-on even if they are big pieces.  Having your jewelry in your carry-on ensures your pieces travel safe and arrive with you in case your checked luggage gets delayed, lost or tampered with. Your jewelry is a special piece of memory and you packed it for your trip because of the memory it holds or the perfect finishing touch it gives your outfits.
2] YOU CAN'T SIT WITH US
I'm sure you would agree that packing necklaces or jewelry with chain can be a chore sometimes. There is always the risk of them getting tangled so much you want to pull your hair out. So how do you avoid this if you don't have a good or effective jewelry travel case? Easy, pack your necklaces separately. How?
Pack them in the boxes they came in
Pack each chain in a mini Ziploc bag with the clasp sticking out from the sealed end
Thread your chain through a straw. This is one of the best ways to prevent nasty tangles
3] BE DELICATE 
If you are traveling with jewelry pieces with delicate stones such as pearls, make sure to pack these in soft pouches separately or in the boxes, they came in.
4] KEEP A LOG
Photograph all the pieces you will be traveling with before you leave home. In the event you get robbed at your hotel or anywhere during your trip, this can be a great source of help to finding and claiming them if found by a 3rd party. I also love this tip because your pictures can be used to take an inventory of the pieces you came with when it's time to pack up at the end of your trip. You can use these photos to verify you haven't lost any piece or have packed up everything you brought along.
5] BE INSURED
If you must travel with precious and expensive pieces, make sure they are insured and inform your insurance company of your trip before you leave.
6] STAY CLEAN
Bring a polishing cloth along with you in the event you need to wipe down your jewelry after a sweaty day outdoors
7] DONT'T TAKE MORE THAN YOU REALLY NEED
When traveling with jewelry, less is always more. The fewer pieces you travel with, the less you have to worry about during your trip. When packing, select pieces that can be worn with many different outfits and still make a great style statement. Select the few pieces that can be transitioned from day to night or from activity to activity like from the beach to the shopping mall, etc.
Traveling with your jewelry can be a painless and stressfree experience if you follow these simple 7 steps.
What has been your favorite tip? And what has been your secret to traveling with your jewelry? Share in the comments section below.