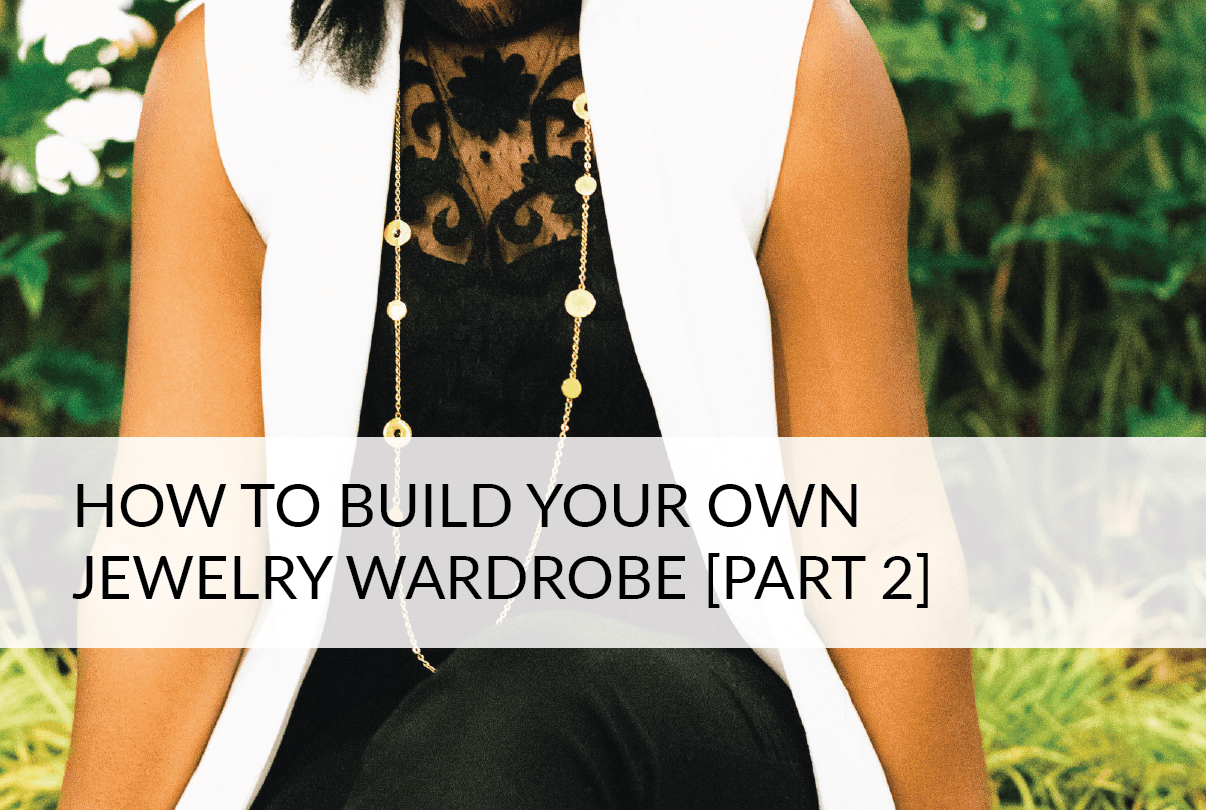 Building Your Jewelry Wardrobe [Part 2] Necklaces
I remember when I first began getting interested in jewelry. I would collect pieces randomly without much thought to the style, function or purpose, at that point, all I cared about was the beauty but now I know a lot better and today, I'm going to show you how to create a more meaningful, purposeful and "it-girl" style jewelry wardrobe with a focus on necklaces. 
If you missed part 1 of the Building Your Jewelry Wardrobe Series where I talked about earrings, catch up here.
Before you begin purchasing or collecting jewelry pieces, ask yourself these 4 very important questions:
1) Pause and observe what you currently own. What do they mostly consist of?
2) What do other people comment or admire about your jewelry?
3) What's your lifestyle life? Does your life require you to be mostly outdoors? Are you in the healthcare industry? Do work mostly with your hands? All of these factors will play a part in the kind of jewelry you shop for.
4) Are you comfortable in the pieces you own?
So whether it's for a day at the office or night on the town, having the right jewelry can take you from feeling good about your outfit to feeling like a million bucks. Here are the top 4 must have styles to have when starting out or rebuilding your jewelry wardrobe with necklaces.
A Simple Pendant Necklace

Style Inspiration:

A simple pendant necklace is a must have for any jewelry wardrobe. Think about it like your little black dress. A simple pendant necklace can act as your style saver, the everyday piece, the go to piece and the perfect work piece. It's a piece that doubles up for work and casual ocassions.
Valor Pendant Necklace 

₦

13,000 [shop this piece]
Initial Pendant Necklace [shop this piece Gold 
₦
9,000 | Silver 

₦15

,000]
A Statement Necklace
Statement necklaces are the secret solution to boring outfits. Because they are usually bigger in size or style, they can bring any outfit to the next level whether formal or informal. Like the photo above, they can make a power suit look even more commanding and can transform a plain outfit into something special or make it look even more expensive than it actually is. 
They are an easy way to dress up a simple outfit, can be worn in so many different ways and a large one can be the only accessory you need.
A Long Necklace a.k.a The Shape Shifter
The long necklace a.k.a shapeshifter is a versatile piece that can be used to dress up a casual outfit or boost a formal outfit. I call it the shapeshifter because, depending on the length, this style of necklace can be wrapped around your neck 2 or 3 times giving you a multistrand necklace with one necklace!
In summary, the key to building your jewelry wardrobe is selecting pieces that can serve multiple purposes. Pieces you can wear day or night, work week or the weekend, to the office or for casual events and still look well put together.
Which of these necklace styles would you be adding to your wardrobe next?