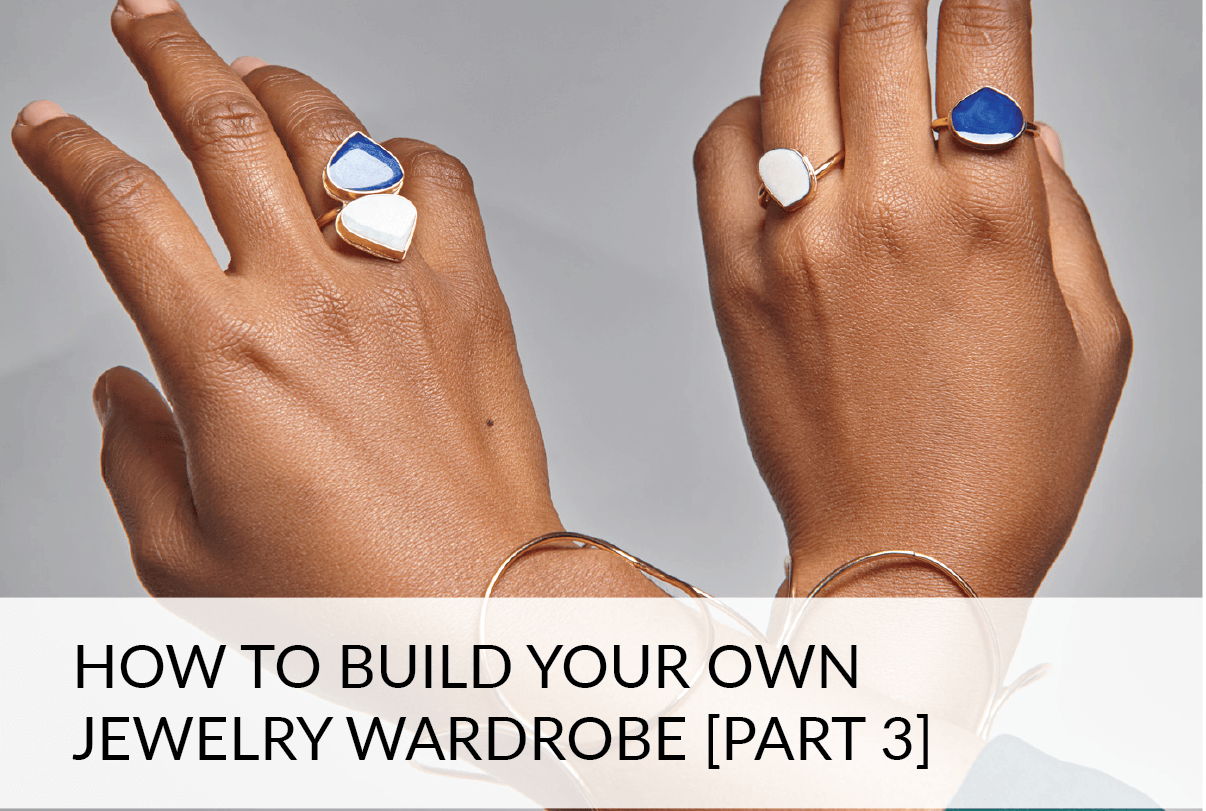 Building Your Jewelry Wardrobe [Part 3] Rings & Bracelets

Rings
Did it ever occur to you that rings are the only piece of jewelry you get to also see and enjoy when worn? Think about it for a second. Every other piece of jewelry you wear is in the line of sight of others. They speak to everyone that you come across and are only visible to others but a ring is that one piece you, the wearer gets to see with ease without the help of a mirror and also visually enjoy.
Rings are such a fun piece of jewelry to wear. They could be very simple looking or over the top. When starting out your ring collection, there are two important styles, to begin with:
Every day rings &
Statement / cocktail ring
Everyday rings are rings that will be able to take you through the work week and the weekend. For the most part, they are easy on the eyes and lend themselves styling trends such as ring stacking.
Another great thing about having everyday rings is you can combine different styles, colors or designs to create a set that could be great for night outs or casual outings.
Style Inspiration
Statement or cocktails are special occasion rings. They are usually worn alone and combined with a statement bracelet (see next section below) or a more toned down bracelet or no bracelet at all. When shopping for your first statement or cocktail ring you want a piece that stands out and can complement the majority of the outfits in your wardrobe.
Having at least one statement ring always comes in handy. When wearing such rings, pair it with a great set of statement earrings too. Check out our previous post on earrings.
Here are some rings styles to get you started building your ring jewelry wardrobe.
Fearless Bypass Ring | Double Valor Ring | Valor Ring | Essence Stacking Rings Set | Essence Double Band Ring
Bracelets
When starting out with bracelets, your essentials should consist of two main styles of bracelets, one casual and one formal. Buying pieces that fall into both categories enable you to always be prepared for any occasion. 
Within these two categories, I advise you start out with cuff bracelets especially if you would be purchasing online and not in a physical store. since they are adjustable, unlike bangles.
Style Inspiration
When it comes to casual looks, cuff bracelets like the Audacious, Fearless and Essence bar bracelets work excellently for that starter piece and also for the mature ladylike everyday look. They work great when layered in same or different colors on the jean days and also give a classy look when worn individually with business casual or formal looks.
click on image to shop the piece.
If you have been following this series, you must have noticed by now that for every jewelry category, a statement piece is a must-have when starting out. Having at least one statement pieces per category always ensures you have a glam piece for dressy occasions as well as having a piece that can be worn alone if you don't have a fully coordinated set of smaller jewelry for the occasion.
1 tip I MUST share with you regarding wearing more than one statement piece is this, always always aim for balance. If you are going to wear a pair of statement earrings, don't wear a statement necklace. Depending on the size of the earring, you may be able to still pull off wearing a necklace but I'd advise you keep it simple and more muted.
If you missed part 1 & 2, click the links to stay updated on how to easily build your own jewelry wardrobe from scratch.
Which of these jewelry styles would you be purchasing to start out or improve your own wardrobe? Share in the comment section below.