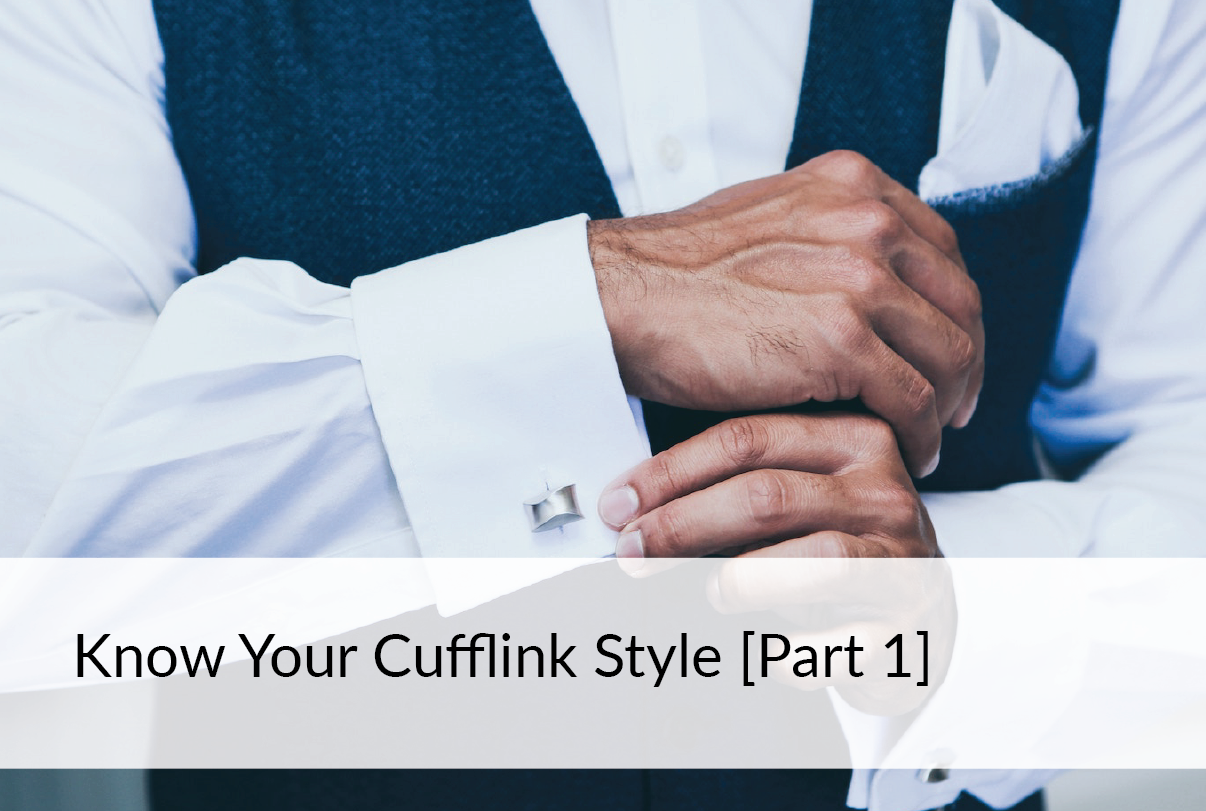 How Well Do You Know Your Cufflink Style? [Part 1]
Welcome, dapper gent (or edgy lady), before you read any further, in your mind, how many cufflinks styles can you name or know? No peaking!
There are a variety of cufflinks styles and each one speaks a different language of style. They may all serve the same function but done right, they can help you project the right image per occasion. 
Types of Cufflink Styles
1) Whale Back Cufflink
The Whale Back cufflink is one of the most common cufflink closures. The Whale Back Cufflink consists of a flat face with a "whale tail" that flips back to close the link.
Fun fact: Did you know that cufflinks date back to the early 1900's?
2) Bullet Back Cufflinks
The bullet back is the most common type of cufflink. So-called because the fastening end is shaped like a bullet.
The narrow cylinder pin rotates to thread through the shirt's cuff holes and then rotates back into position to secure the cuffs. One of the great things about this style of cufflinks is, it is the perfect entry-level cufflink for people new to wearing cufflinks and is ideal for guys or ladies who like a snug fit.
3) Chain Link Cufflinks
Chain link cufflinks are one of our favorite types. They aren't as popular as the whale back or bullet back cufflinks so instantly, they help you stand out and give a stylish look from day to night. Because of their style, these style cufflinks can usually be reversible giving you two cufflinks in one. Each end of the cufflink is connected via a chain link as the name says. They also give a slightly looser fit than the whale back or bullet back.
4) 

Silk Knott Cufflink
This is another great entry-level cufflink. It works well for informal occasions, can give a pop of color and are relatively easy to use. One thing to note about silk knot cufflinks is, they can be less durable than metal cufflinks but they are certainly more affordable. If you are new to wearing French cuffs and cufflinks, this is a great place to start to begin building your collection.
Style tip: Do not wear silk knot cufflinks to black or white tie events. They are more suited for work or other formal outings 
One of the great things about cufflinks is, they boost your style exponentially, give you an unexpected flair and speak a higher level of class. As always when it comes to fashion and personal style, it is always important to be conscious of the setting you are in, stay in tune with your own style and wear what you feel best expresses who you are.
Read the concluding part about the remaining 4 cufflink styles here
Enjoyed this post? Share it with your friends on social media using the buttons below.