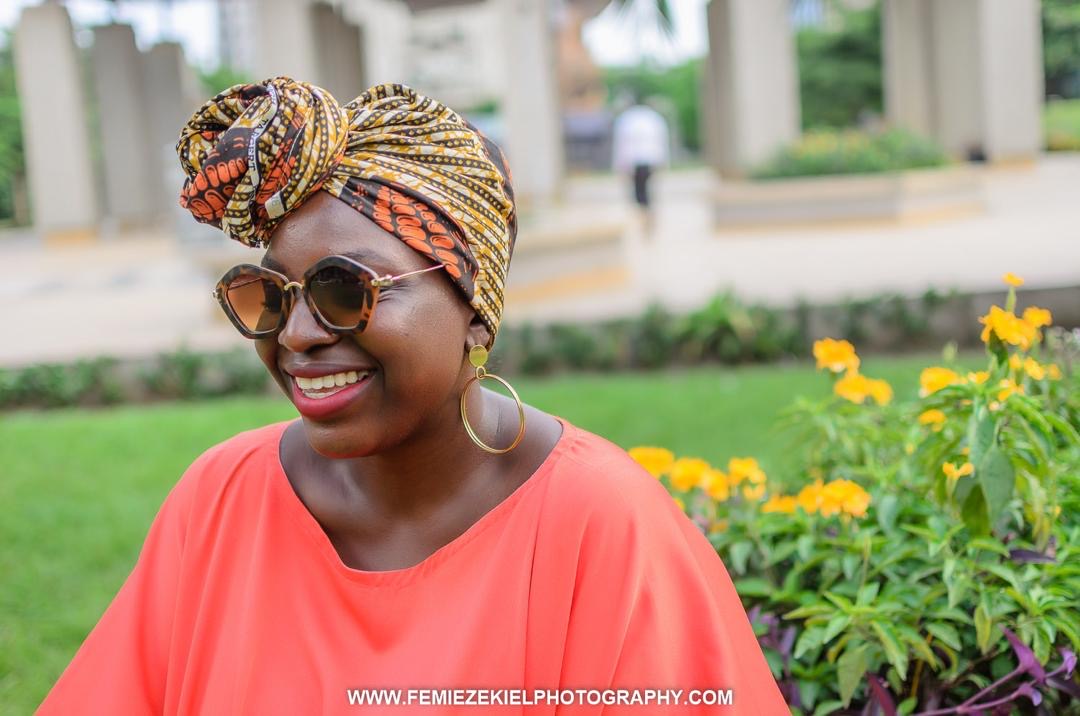 Z Talks With Damilola Alabi of PillowTalk9ja
Today, we are chatting with Dammie Alabi, the force behind the popular brand, PillowTalk9ja. She has used her love for words to create beautiful pillows that not only look pretty in homes all across Nigeria but constantly uplift the soul of the owners. We speak to her about her journey to designing and making pillows and of course jewelry & style!
Z: Tell us about yourself & what you do
D:

My name is Dammie, I am a saved lover of God and Christ and the glory of His name is the centre from which my life flows. My true and honest desire and ambition is to be like Christ! He is my reason in every way. For work, in very simple terms, I design and make various kinds of pillows -

@pillowtalk9ja

. In broader terms though, I am a lover of words! There is so much power in words! I am fascinated about the ability of words to make and to break, to build and to tear down, to encourage and to discourage. Words literally shape our world-first through perception and ultimately through experience. My desire is to help people surround themselves with POSITIVE words that build up and encourage growth. The world is full of so much negativity that spreading positivity MUST be an intentional thing. My background in interior decorating inspired me to use pillows as a tool to achieve this.
Z: So why pillows & how did you get into making personalized pillows? 
D: LOL! This is still a surprise to me as well. Like I mentioned earlier, I actually studied interior decorating in school and worked as a decorator for a little over two years before venturing out on my own. I ran my own decorating business for a bit and my love for words drew me to looking for ways to incorporate that in my designs. So I would design a space and leave behind a customized pillow as my own signature and people loved it. This was as far back as 2013.

Typical of any business, the first years were quite challenging, The frequency of getting jobs was not as fast as I would have loved it to be so the Pillow thing was a nice additional income stream even though it was largely just a hobby and I did not know much about it at all.

Surprisingly though, over the years, people loved the pillow idea more and more and the demand really grew. I remember I would go for events and I was referred to not as a decorator, but "the pillow lady". I really struggled with this! It did not make sense to me at all.

I was having a prayer time one day and the Holy Spirit spoke to my heart to embrace this fully. So even though making pillows is not something that really made sense to me, I threw myself into learning more about it, bought my own machines, learnt additional skills and in March of 2017, Pillowtalk9ja was official birthed as a business. And it has been so rewarding! We have never really done any advert or even a sponsored post, however, the business continues to grow day by day to the glory of God!.
Z: That is so amazing! It just tells us that it's important to pay attention to what is happening around us and pivoting can be a blessing in disguise! So, tell us, what's one moment you are super grateful for and proud of since you started PillowTalk9ja?
D: Wow! This is such a hard one to answer and that is because there are so many moments I am super grateful for oh so many....so many I am proud of too.

Some moments I can say are, making the first pillow in our own factory from start to finish (I started out outsourcing most part of the process). Hiring my first colleague, we are 6 now wow! Going on my first pop up and selling out EVERYTHING!! Landing our first major corporate client, Access Bank. Making our first million and then some! extra zeros.

It's also the weird things too. Handling our first disappointed client, 😭 this one is one moment I am really grateful for. Producing over 100 pillows in 24hours, this really stretched us! And then we produced over 300 neck pillows in 4 days. We worked 4 days straight! Sleeping like 7 hours in total in all the 4 days. Haven't been prouder of my team! Resilient folks. Learnt the value of people! Good people!!

There's also those absolute sweet and cheesy moments. Walking into random spaces and seeing our pillows. Or receiving random photos of sighting of our pillows from clients, friends, and family. There was a day i went to ikeja city mall and as I got off I sighted our bags and pillows in the car right beside me, I couldn't help but smile.

I could go on....but I'll stop. Pillowtalk9ja is a wonder to me. And to be honest with you, there is not a week that goes by that I am not super grateful for this gift of work and the honour to steward it.
Z: Now, we know that looking good and feeling good goes a long way in influencing how we feel and in turn how our days play out, so how would you describe your personal style? 
D: Hmmm, Style! That is one thing I do not fully understand. Lol! So for me, I change a lot, I am very inspired by different things at different times and so my style is not really constant. These days, I find myself transitioning from an androgynous to a more feminine style. Still playing around though. One thing is always constant for me though.....COMFORT!
Z: Gosh yes! Comfort is key! There is nothing like a combination of function, comfort and beauty! So coming to jewelry, do you remember the first piece of jewelry you ever owned?: 
D: I cannot really remember but I am certain they were earrings. But the first piece of jewelry I owned and truly loved was a ring! - I had a purity ring that i loved so much. I still love rings till date.
Z: How did you get it & and how did it make you feel?:
D: My mum gave me the ring, and then I was reading a book one day and the character had a purity ring so I converted mine to that and I absolutely loved it!. I think it was more because of what it stood for. I felt so special and like that it meant something important.
Z: How would you describe your jewelry style?
Z: What is your favorite Zivanora piece?:
D:

My X and O stud earrings!! I absolutely love it! Simple! Fun!! different!! I also love my hoops - it's not the regular hoops style and it makes me feel so feminine without compromising my love for different.
Z: What's 1 great insight you can share with other entrepreneurs reading

at this time when the world is in a bit of a crisis due to the pandemic

?
D: 

To thyself BE TRUE! 

Yes, things are going to be quite different from what we have known and a lot of people will have answers. While there is safety in counsel, it is important to sieve stuff and a good sieve will be YOUR VALUES! Don't be blinded by fear! Let your values instruct your decisions. At the end of the day, there are things that are way important than others. 
Z: Random Question! 

Marvel or DC? Why?

: 
D: 

First of, I had to google what that means! *hands over eyes* 

None! sorry. 
Z: Hahaha. Wow! Thank you so much Dammie for taking the time to share your story and chat with us!  
Don't forget to connect with and follow PillowTalk9ja on Instagram.
Shop Dammie's Look